To all to whom these Presents Shall come, Greeting: In Testimony Whereof.
"The duty we owe to the Creator and the manner of discharging it."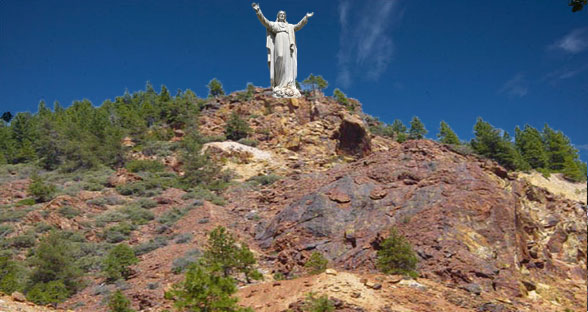 Yet have I set my king upon my holy hill of

Z

ion. (psalm 2)
Broad criteria: relevance, inclusiveness, objectivity, transparency and openness, timeliness, and
best available science for proposed covered actions and for use
peer review.

The statutory protection found at CERCLA § 107(r)(l) is self-implementing and the EPA generally will not be involved
"I don't mind pounding heads & twisting arms when I'm NOT running my fenced, posted, & otherwise indicated unmistakably;
PRIVATE PROPERTY!" Occupation right-a-way:
Observing Safeguards while Covering all the Bases...
taking ownership

Trail Bla
zing in a Wilderness of Conflicting Counsels Venturing out of their League.
"The agency has a very good batting record"
-
David Doniger, policy director of the National Resources Defense Council
's Climate and Clean Air Program (Wiffle Ball)
Solid Waste Facility Cleanup Prospecting Permit - Landfill Violating State Minimum Standards
"It is to protect citizens against … overreaching actions by government bureaucrats that
courts are empowered to prevent arbitrary and capricious interference with property rights.
Long-term Legacy - Disposal Site: Abatement of landfill leaching into valuable watershed habitat.
Notification of Intent: Best Management Practices for timely remediation and for New Redevelopment and accelerating cleanup and restoring site and protecting public health and safety and the environment.
Custom Mill Site: Public lands which are non-mineral, independent of mining claim. (43 CFR 3844)
John F. Hutchens, Principal Investigator, Prospector, Headmaster Naturalist, Tenant-in-Chief
Authority: Implementing certain provisions of the MRP on behalf of the Shasta County Flood Control and Water Conservation District. Critical Watershed Habitat & New Enterprise Zone Program.
Overall Mission: Freehold interest in subject Abandoned Disposal site renewable energy waste minerals.
Qualified Application: Persons engaged in cleanup activities needed to protect public health and safety or the environment reducing pollutants entering the county's storm-water system activities including the ownership and use of premises that is source of pollutants, with business enterprise and dwelling units.
Priority: (Public entities bear financial responsibility for remediating public landfill sites in compliance with State regulations and standards and to accelerate the pace of remediation cleanup & restoring sites.)

Special Financial Assurance Management Site Storage Disposal Treatment Assistance Mechanisms Unit
Taking reasonable steps going forward toward sustainability and factoring for measuring ownership from the time of cleanup best bona fide authority management performance adapted to local conditions exclusion of certain property
    3116(a)        40:258e-1 (less         Feb. 26, 1931, ch. 307, Sec. 
                    last sentence).         6, as added Pub. L. 99-656,
Regarding the Treatment of Tenants : EPA

actions
effectually obliterate

the distinction applicable to certain tenants
of

some nexus to the act or omission giving rise to

the matter of innocent purchasers
do need to satisfy the contractual relationship test of the third party defense
and to clarify and improve
protections

"EPA knew or showed reckless disregard for"

functions concerning

whether its conduct was prohibited"
and provided

regarding

the degree to which the invasion is intended or is the foreseeable result of authorized government action when EPA
did not prevent disposal of hazardous waste and failed to act with appropriate care.
When The Landfill Is Full…
The Biggest Fish Story Ever Told
Overlying Rights Performance based on what to do in a case of an EMERGENCY! Human rights report finds persistent persecution of the non-religious

Brandon Gatto December 11, 2012

| | |
| --- | --- |
| | |
[JURIST] A report [text, PDF] by the International Humanist and Ethical Union (IHEU) [advocacy website] has found [press release] that atheists and other non-religious persons suffer persecution and discrimination all over the world, and that prosecutions of blasphemy have risen along with the popularity of social media. The report, "Freedom of Thought 2012: A Global Report on Discrimination Against Humanists, Atheists, and the Non-Religious," was released on Monday [Reuters report] to recognize Human Rights Day [UN backgrounder], and discusses laws and cases in 60 countries where atheists have been prosecuted for their beliefs. It also reports that the laws are used to curb the rights of the non-religious. Specifically, certain decrees are used to suppress expression, restrict the right to marry, obstruct access to public education, criminalize blasphemy, and even execute those who choose to stop practicing the religion of their parents. Additionally, the report notes a drastic increase in blasphemy cases in 2012, as more than a dozen people in 10 counties have been prosecuted for their posts on Facebook and Twitter, as compared to the three cases prosecuted over the last three years. The report was welcomed by the UN Special Rapporteur on freedom of religion or belief [official website], Heiner Bielefeldt, who hopes that the international community will reflect on the IHEU's findings.
In October, Bielefeldt presented his own report [JURIST report] to the UN General Assembly [official website] that urged all member states to protect freedom of belief as it applies to religious conversion. In particular, the report documents the Special Rapporteur's analysis of international patterns of abuse in the area of religious conversion [UN News Centre report], detailing violations in which people are either restricted in their rights to conversion or are forced to convert or reconvert to become more "acceptable" to the society in which they live.
Custodian of Records, MS 5
California Integrated Waste Management Board
P.O. Box 4025 Sacramento, CA 95812-4025
Existing law authorizing or requiring the sale of acquired lands empower any commission, bureau, 
or agency of the Government to make the sale of any acquired land: Provided, That any such sale or 
conveyance of lands shall be made by the agency having jurisdiction thereof, subject to any lease 
theretofore made, covering the mineral deposits underlying such lands: Provided further, That 
nothing in this chapter is intended, or shall be construed to affect in any manner any provision 
of chapter 641 of title 10.
Independent establishment having jurisdiction over the land.
(Corporation primarily acting as an agency which produces electrical energy for sale to the public 
if such governmental entity is located in the State in which such lands are located.)
Provisions of section 2325 (30 U.S.C. 29) 43 CFR 3861.1
A millsite must be occupied or used in connection with mining activity.
Research, Education, and Economics - opportunity assessment
Moving Forward to Improve Engineering Education.
"Jury Trial of Right"--
A properly demanded jury trial on the issue of just compensation "is a matter of right,"

("The right of trial by jury as declared by the Seventh Amendment to the Constitution or as given by a statute of the United States shall be preserved to the parties inviolate."), with FRCP 38(b) ("Any party may demand a trial by jury of any issue triable of right by a jury by [following specified procedures].").

40 USC Sec. 3115 01/03/2012
DECLARATION OF TAKING (or otherwise, which has been or may be, that may have been, or may be, deemed to be possession of...said lands in fee simple absolute)

on behalf of the Government by a declaration of taking or otherwise.
on behalf of the Government by a declaration of taking or otherwise. -SOURCE- (Pub. L. 107-217, Aug. 21, 2002, 116 Stat. 1147on behalf of the Government by a declaration of taking or otherwise. -SOURCE- (Pub. L. 107-217, Aug. 21, 2002, 116 Stat. 1147